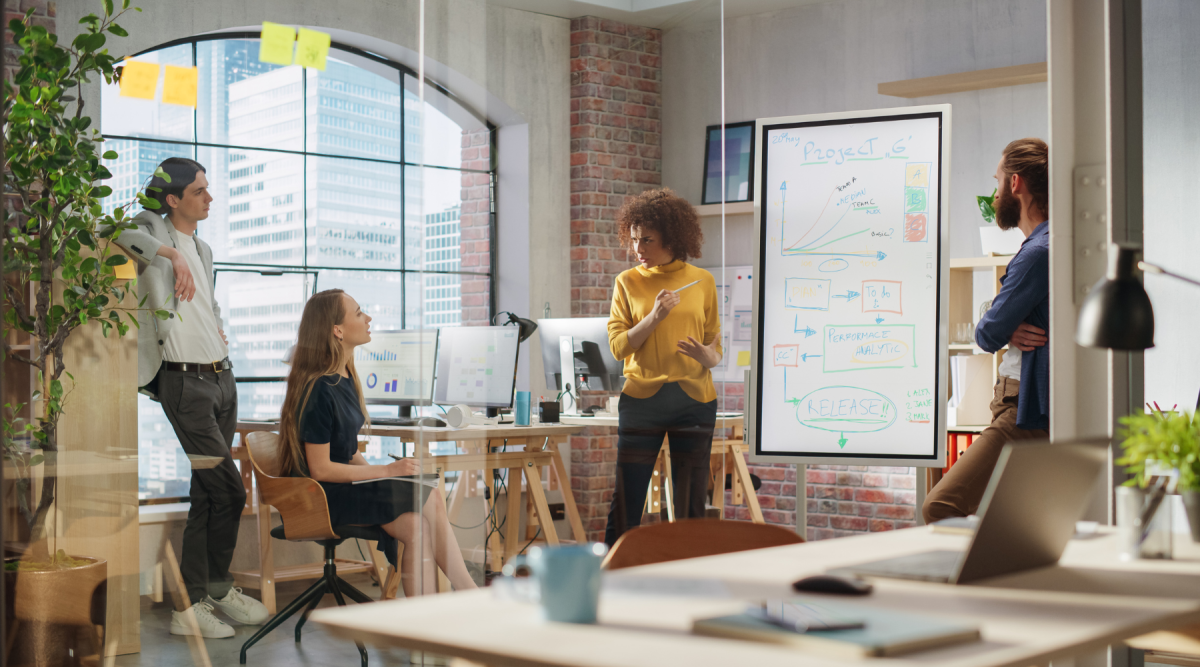 Communicate and Collaborate Better
At CPC Office Technologies, we believe in staying on the cutting edge of technology. We offer a wide range of office products to help our clients work more efficiently and effectively.
To that end, we stock a selection of digital displays and whiteboards. These outstanding products allow for greater collaboration between you and your colleagues. You'll be able to create and communicate information with unmatched ease.
6 Key Benefits of Adding a Digital Display or Whiteboard to Your Office
Improved Communication: Digital displays and whiteboards can improve communication among team members. These tools offer an interactive platform for team members to share their ideas and concepts, making understanding and discussing them easier. This can reduce the likelihood of misunderstandings and ensure that everyone is on the same page.

Increased Collaboration: Digital displays and whiteboards can facilitate collaboration among team members. These tools offer real-time collaboration capabilities, allowing team members to collaborate on real-time projects. This can be particularly useful for remote teams working together on projects.

Better Idea Visualization: Digital displays and whiteboards can help teams visualize their ideas more effectively. These tools offer a variety of visual aids, such as graphs, charts, and diagrams that can help team members understand complex ideas and data. This can help teams make informed decisions and develop effective strategies.

Simplified Documentation: Digital displays and whiteboards simplify the documentation process. These tools allow team members to capture and store their ideas and concepts digitally, making it easy to access and share them with others. This can eliminate the need for time-consuming documentation processes, such as taking meeting notes.

Increased Productivity: Digital displays and whiteboards can increase productivity in the workplace. These tools offer an interactive platform for team members to collaborate and share their ideas, making the collaboration process more engaging and stimulating. This can lead to more productive and creative collaboration sessions.

Modern and Professional: Image Incorporating digital displays and whiteboards into your office can help your organization project a modern and professional image. These tools offer a sleek and sophisticated appearance that can impress clients and customers.
Features of CPC's Digital Displays and Whiteboards
The superior features of our digital displays and whiteboards include:
High Definition LED display
Dedicated touch pen for smooth, uninterrupted writing
Ability to recognize 2-4 users simultaneously
Front-facing USB port for easy connection
Connectivity with specific multifunction systems for displaying scanned images and documents
Ability to add annotations directly to photos, videos, and documents
Fingerprint and scratch resistance to help prevent damage to the screen
Thin, lightweight design
Ability to connect and collaborate with dozens of mobile devices
Managed Print Services and Other Solutions
On top of our printers and other copy products, CPC offers a variety of solutions for your document and IT needs. We'll help you manage your information better, keep your network functioning properly, and more. Click the links for details:
For more information on our digital displays, office equipment or services, don't hesitate to get in touch with us.