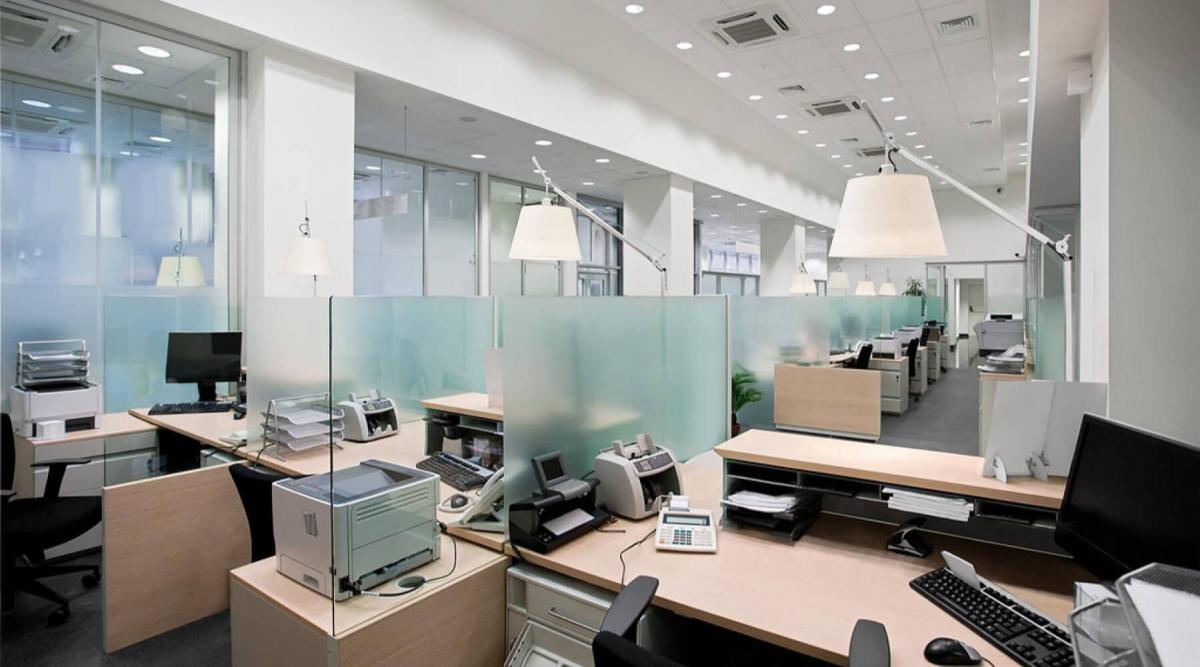 CPC Office Technologies' office products will give you unmatched versatility and productivity. You'll be able to print high-quality documents and save and share information faster than ever before. Take a look at the different office products we offer below.
Whatever your goal in searching for new office equipment, gathering some information before starting your search can save valuable time. We recommend taking a look at your workgroup size and needs, as well as the output and speed that you require going forward. This will help guide you in deciding which office equipment you require to increase efficiency in your office.
Multifunction Systems
Maximizing efficiency in your workplace is important. You need to get more work done while spending as little time, money, and resources as possible. With a multifunction system, this becomes easy to do.
Multifunction systems—or MFPs—combine the functions of several different devices in one machine. They allow you to:
Minimize the expenses related to printing
Reduce the need for service calls and maintenance
Manage your information faster and easier
Multitasking is key in today's business, so why shouldn't your office equipment keep up? Even if you primarily do only one task, multifunction systems are worth the upgrade.
Deciding to get a multifunction printer is the easy part. The hard part is selecting from the huge variety of options on the market. Here are a few things you'll want to look for in an MFP.
LEARN MORE ABOUT MULTIFUNCTION SYSTEMS
Printers
Having the right printer for your workplace can boost your efficiency considerably. Whether you buy new or refurbished, our user-friendly machines will quickly produce complex documents and finely detailed images whenever you need them.
Benefits of the printers we offer include:
Simple, convenient installation
Fast print speeds and high duty cycles
Eco-conscious, energy-efficient design
Duplexing capabilities
Internal memory for fast reprints
The ability to handle various media types
Copiers
If you need to reproduce paper documents, check out one of our available copiers. Our devices give you the ability to retain the details of your original documents and make improvements as well.
Choosing the perfect copier--whether that's a standalone device or an MFP, is important. The wrong device can waste time, money, and energy in your office, while the right device can boost efficiency, improve security, and make communication easier than ever.
There are a few things you can focus on searching for to make the whole process easier:
Price: A copier costs more than the price tag. Take consumables and maintenance into account as well.
Buying or Leasing: Both options have their advantages and disadvantages--and the truth is that there's no "right" answer. It all depends on your business, your future goals, and your needs.
Functions: You're not limited to a copier that only makes copies. Take a look at models that offer additional functions that fit your needs.
Features: Is there a speed you need? Do you need color or only black-and-white? How about security?
Here are three reasons why upgrading your copier might just be the best thing you can do for your company:
Repair and maintenance costs
Security
Overall performance
Finding the right copier is critical. It needs to function properly, meet your office's demands, and be the right price for your budget. Sure, you can shop around and assume you've found the best one, or you can partner with us and get expert advice and the best copier for your specific needs!
Scanners
One of the biggest problems a company might have with their existing scanner is that it's too slow. Many machines are limited by their design or max capability, meaning that they only handle one document at a time. And while this might work for small businesses or any workflow that doesn't move too fast, it just isn't realistic for everyone else. The good news is that, with savvy scanning solutions, it's possible to scan faster, better, and smarter- and the best part is that it's easy on your budget.
CPC Office Technologies makes it almost effortless to convert physical documents into digital files. Our selection of document scanners gives you the power to capture your documents and save them in a variety of formats. You'll get more work done and your information will be more secure.
Some companies aren't sure whether to have their scanning done in-house or to outsource the whole endeavor. Take a look at this blog to help you decide if in-house scanning makes sense for your needs.
Here are just a few things that make the switch from paper to digital completely worth it:
Digital documents are easier to find and access thanks to OCR technology
Paperless offices are better for the environment
Wide Format Printers
Whether it's copies of your latest architectural designs, banner ads for your storefront, or some other type of large document, you may need more than a regular sheet of paper can hold. For clients who need larger prints, we offer a stock of excellent wide format printers. Our equipment allows you to produce prints in a wide variety of sizes with minimal energy or costs.
Features of our wide format printers include:
Efficient print speeds
Superior print resolution
Editing features
Scanning capabilities
LEARN MORE ABOUT WIDE FORMAT PRINTERS
Mailing Systems
For customers whose businesses require them to process and send postal mail, we offer an assortment of first-rate mailing systems. This equipment will makes mailing thousands of letters, postcards, and other documents a smooth, painless process.
We also offer other mailing products, including:
Folders/Inserters
Address Printers
Tabbers
Letter Openers
Mail Center Furniture
iMeter Apps
LEARN MORE ABOUT MAILING SYSTEMS
Digital Displays and Whiteboards
These outstanding digital displays and whiteboard products allow for greater collaboration between you and your colleagues. You'll be able to create and communicate information with unmatched ease.
The superior features of our digital displays and whiteboards include:
High Definition LED display
Dedicated touch pen
Recognition of 2-4 users simultaneously
Front-facing USB port
Connectivity with certain multifunction systems
Ability to add annotations directly to photos, videos, and documents
Fingerprint and scratch resistance
Thin, lightweight design
Ability to connect and collaborate with mobile devices